For quite some time I've been interested in getting my FFL license and for several reasons: easier shipment of firearms, ability to sell AR-10's on AR10T.com, and to purchase firearms direct without using my local FFL. (I seem to know more then they do anyway)
I just purchased the FFL kit from FFLKIT and found it to be very informative. It will not fill out the applications for your; however, it does give you clear guidance on exactly how to apply so that you are approved for your FFL License.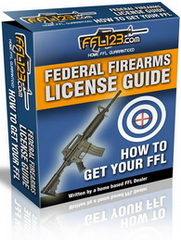 Something to be aware of is that the ATF will not issue a FFL license to just anyone who applies. There are a detailed set of regulations which establish the requirements for filing. However, from what I saw you can take the knowledge obtained from this kit and a from the ATF website and you should have no problem completing the applications and getting approved.
From what I read in the kit this kit is well worth the price. For me, it was well worth the time savings just becoming more educated on the process. The cost of the kit is 19.49.
To order the FFL License Kit and get started in the right direction for obtaining your FFL simply order the kit here!