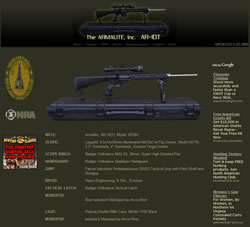 Back in 2003, AR10T.com started as a fan page for the Armalite AR-10(T). I had on order an AR-10(T) and spent a lot of time searching the web for information about the rifle and available accessories. At that time there was very little information surrounding the rifle so I thought it would be a service to others like me if there was a site dedicated just to the AR-10.
The initial site consisted of 6 pages dedicated to the specs of the rifle, the upgrades, photos, and links to a few other sites. There were about 15 visitors per month to the site back then. I received several interesting emails in those days from security contractors and even the Department of Justice. It seems that there were many others out there similarly searching for AR-10 info.
In November 2007, the site undertook a major upgrade when it went live with a content management system that enabled easy page creation and was driven by a database instead of manually edited pages. The color scheme was the same dark green and black as the original. Within a few weeks other features such as the photo gallery, forum and chat were added. The site immediately started to grow and started experiencing over 100 visitors per day.
In spring 2009, another evolution took place for AR10T.com as the site upgrades to a new sleeker layout, calmer color scheme, and new features! This is the site as you see it today.
Three years later in 2012 the site underwent a complete rebuild from the ground up.  Eliminating bugs and now allowing for the site to run faster and with fewer glitches.
2013 will mark the 10th Anniversary of AR10T.com